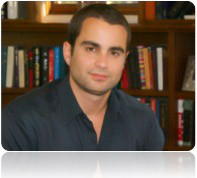 Dr. Evan Fisher is a licensed marriage and family therapist with a private practice in the Pacific Palisades where he counsels people suffering from all manner of emotional and characterological distresses, including:
Anxiety and stress
Depression and low self-esteem
Anger and rage
Fears and phobias
Addiction issues
Obsessive-compulsive behaviors
Spiritual crisis
Personal crisis
Emotional distress from physical illness
Major life transition issues (lifestyle, career, aging)
Interpersonal/relationship problems
Marriage counseling
Family counseling
Evan specializes in helping individuals and families in emotional and existential crisis bring balance and contentment back to their lives. He uses various techniques derived from depth psychology, cognitive behavior therapy, object relations theory, and Eastern psychology practices, and he takes a special interest in the "spiritual maladies" that appear in a person's everyday experiences. Evan has studied various spiritual disciplines including Advaita Vedanta, Buddhism, Jewish mysticism, Yoga, and The Twelve Steps.